Orange Dot Baking Company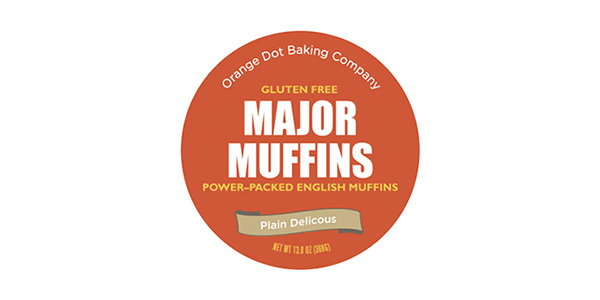 Power-packed Goodness.
For two years, this local start-up had been selling out of gluten free crumpets at farmers' markets and local stores with virtually no labeling. The owner/chief baker sought to develop a brand that could thrive in larger markets and increase sales and profits to a level that would attract venture capital. For starters, we reclassified the product from crumpet to the more familiar english muffin. Since the gluten free market has matured, the gluten free attribute alone was no longer enough to differentiate the product, so we focused on a secondary benefit of protein-rich ingredients. We created a product name (and 8 flavor names), then encased it in an orange dot to create instantly memorable visibility, communicate the company moniker and set the stage for future Orange Dot offerings. We developed an identity system and an online shopping site. Retail distribution doubled as customers are thrilled with the strong brand and fun flavors. With serious sales momentum and new products on the horizon, Orange Dot made the move to a full sized, gluten free industrial kitchen.