Bledsoe Wine Estates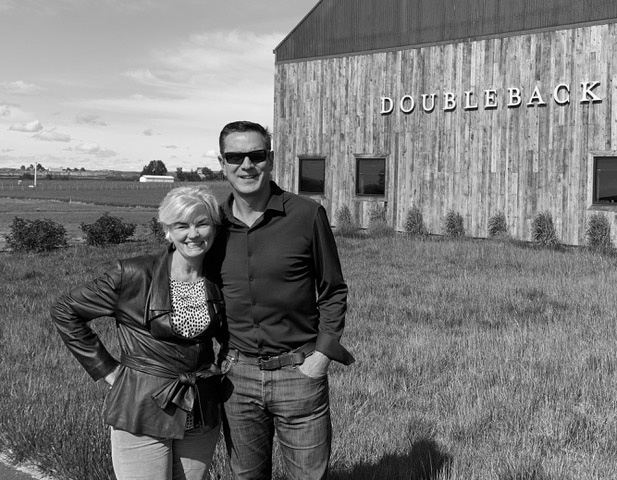 Brooke and Drew Bledsoe at Doubleback Winery, Walla Walla Valley.
I love playing offense!
I'm usually called in to help recover a lagging brand's position in the marketplace. Doubleback Winery was at the top of its game and looking to grow further, faster. The challenge was to better position the company for growth — a fun chance to play offense for a change. The task recalled the glory days of working on category leader Bud Light.
Doubleback Winery makes one of the best Cabernet Sauvignons in the country. In Walla Walla Valley, Washington. You read that right. On the forefront of the emerging Washington wine industry, Doubleback got its name from owner Drew Bledsoe's return to his hometown after a career in the NFL. With enough money and wine knowledge to purchase exceptional vineyard land and hire top notch winemaker Josh McDaniels, Bledsoe created a masterpiece. In addition to Doubleback Cabernet, the company sells a more accessible label, Bledsoe Family Winery, and was preparing to launch a new label, Bledsoe-McDaniels. The Bledsoe-McDaniels collaboration set out to prove that the duo could excel at other varietals too, such as Walla Walla Valley Syrah and Willamette Valley Pinot Noir.
About to own three labels, I encouraged the company to devise a brand architecture that would organize and differentiate their brands in a way that made sense to consumers (as well as to employees, the trade, and the press). That meant we needed to create a brand identity for the company, as well as individual brand identities for each label.
Consumer research showed that the winery had a glowing, national reputation among adoring fans, many still rooting for the NFL quarterback. However, Bledsoe was not the only celebrity. McDaniels had been heralded as a "Game Changer of Washington Wine" and a "Washington Prodigy" which cemented his own credibility. The duo share the competitive drive, elite training and true enjoyment of the game it takes to become champions. We tied the company's brand identity to their magnetic confidence: Proven Winners. This winning team had shoulders large enough to carry nationally acclaimed Doubleback Cabernet, attract new wine aficionados with allocated Bledsoe-McDaniels varietals, and continue to delight fans daily with all-occasion Bledsoe Family Wines.
They dubbed the new organization Bledsoe Wine Estates and carefully positioned each brand under the umbrella brand. They retrained tasting room staff, created a new website and crafted new marketing materials that made sense of it all. Most excitingly, the new brand architecture tees up the company for more opportunities downfield. An important factor, as the Bledsoe-McDaniels team has its eye on the prize.